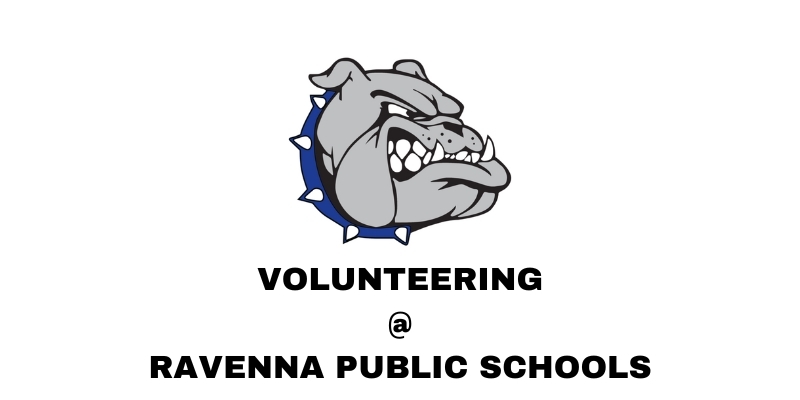 Ravenna Public School Volunteer Guidelines
In a continuing effort to keep our schools safe, Ravenna Public School requires that parents and community members submit a criminal background check prior to participating in any volunteer activities involving our students. If you do not complete this form, volunteer activities will be limited to group situations as approved by the principal or superintendent. Thank you for your understanding and for all that you give to our schools, community and children!
The purpose of a school volunteer is to enhance student achievement by engaging and leveraging the rich talents and expertise of our local school communities. School volunteers:
Reinforce classroom learning by assisting teachers in classrooms with non-instructional tasks
Support school personnel in the effective operation of schools
Promote positive partnerships between the home, schools and the community
Serve as positive role models for students by helping students develop a more positive attitude about themselves, schools and communities
EXPECTATIONS AND REQUIREMENTS
1. The Ravenna Public School District's Board of Education encourages parents, guardians and other members of the community to share their time, knowledge and abilities with our students.
2. To ensure the safety and well-being of our children, the District has developed several expectations and requirements for our volunteers. Safety is our first concern.
3. Each volunteer is expected to complete the District Volunteer Application Form. The completed form must be on file in the principal's office prior to commencement of services. This form includes a requirement to disclose any prior criminal convictions. Failure to provide accurate information will result in termination of services.
4. Each volunteer is expected to maintain privacy and confidentiality regarding each student and family.
5. If volunteers hear about or observe evidence of child abuse, volunteers shall report the information to the site principal or designee immediately. If a student talks about any of the following, please contact the principal, the guidance counselor, or the mentor director/coordinator immediately. Suicide, hurting themselves, hurting anyone else, bringing a weapon to school, physical abuse, sexual abuse, verbal abuse, being bullied or bullying others.
6. Ravenna Public Schools will not approve of volunteer applicants who have criminal sexual conduct of any degree, assault with intent to commit criminal sexual conduct, or attempt to commit criminal sexual conduct in any degree, felonious assault on a child, child abuse in the first degree, or an attempt to commit child abuse in the first degree; cruelty, torture, or indecent exposure involving a child; or a violation of Section 7410 of the Public Health Code, Act 3688 of the Public Acts 1978, being Sections 333.7410 and 333.7416 of the Michigan Complied Law. If after the background check it is found that a volunteer has been convicted of any of the above crimes, the district will notify the volunteer of the finding(s) and she/he is subject to being prohibited from volunteering with Ravenna Public Schools. Furthermore, any potential volunteer who has violated 1539 of the Michigan School Code, is encouraged to not apply.
7. Volunteers are to conduct themselves in a manner that will not be distracting from the educational process.
8. Volunteers will not bring children with them during volunteer hours.
9. Volunteers understand that student discipline is the responsibility of the school personnel. Volunteers will consult with the school personnel regarding discipline procedures.
10. Volunteers understand that their service activity as a volunteer is determined by the administrator and/or teacher and may be discontinued at any time.
11. Volunteers will adhere to the District's COVID-19 Safety Protocols, including but not limited to self monitoring of symptoms prior to school arrival and reporting of positive COVID-19 diagnosis or close contact exposure to school administration.
By continuing to the volunteer application linked below I agree that I have read and understand the information above and agree to follow these guidelines.